Blogsitting: Alix from Modern Kiddo
UPDATE: I'm home a bit earlier than expected, but 13 days is long enough, ooof. I hope you are liking the guest posters, I decided to let it run it's course; this will give me the opportunity to get back in the swing of things (and the time change!) Glad to be back and can't wait to get back to blogging and share the adventures :)
--------
I was so thrilled Alix from Modern Kiddo wanted to do a guest post! Her blog is full of eye candy, and being the big toy lover I am (I don't just discriminate to toy cameras), I know she'd be a great host. Being Monday (Mundane) and all, I thought how appropriate her post was. Don't we all need a bit of a (virtual) drink to get ourselves to unwind a bit? Read on :)
Hello friends! It's Alix from Modern Kiddo here. I'm so thrilled to be Guest Posting for the fabulous Diana while she is away on a well-deserved vacation. For those of you who don't know me, I love vintage. We're talkin' crazy love it. Clothing. Jewellery. Design. Illustration. Since Modern Kiddo focuses on the younger side of vintage, I thought it would be fun to take a peek at something decidedly more grown-up while I'm playing hooky over here!
I come from a long and glorious line of collectors. My Tante Maria saved and treasured everything—and was amazingly tidy about it (unlike the explosion of goodies that are strewn about my house). When she passed away my mother and I spent several days sorting through her household. As we sorted through things, my mom pulled a box out and said, "I think you might like this." It was my aunt's old barware...complete with little drink guides she had pulled out of magazines in 1969-1972. There were even cute, little hand written scraps of paper with drink recipes on them. While the drinks all sound delish, it's the photos and typography that I love.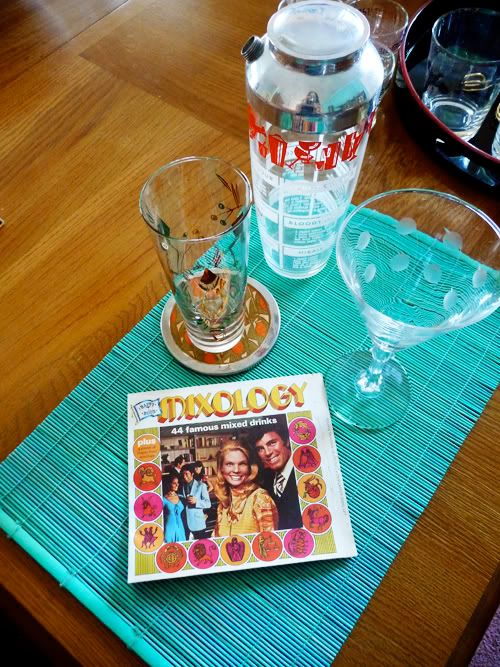 Dig it! An astrology themed cocktail guide for "44 Famous Mixed Drinks." Outlook for this evening Aries? You are enthusiastic, confident, quick-witted and best served with a splash of vodka.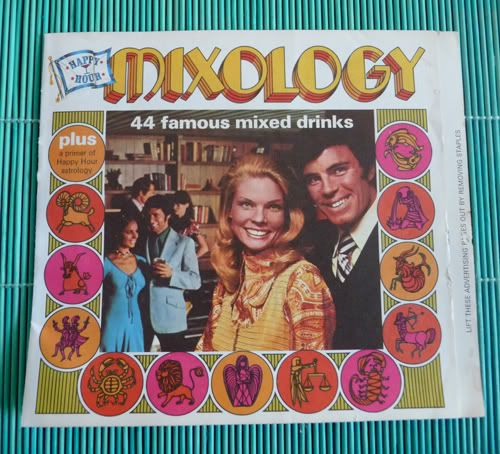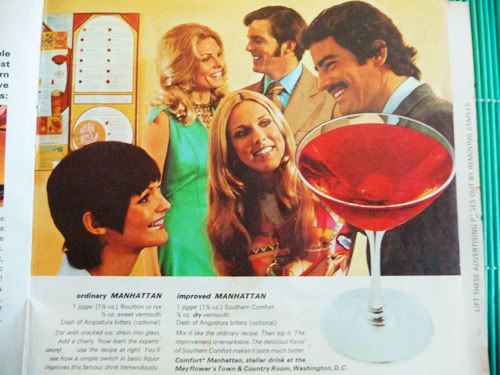 Well hello there....this fine fella is certainly putting the MAN in Manhattan! I like how you can choose the "ordinary" or the "improved" version. Is there really any decision that needs to happen here??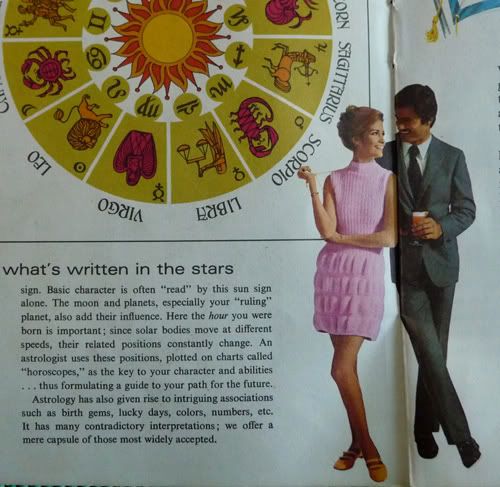 I love her dress and shoes...hey wait a sec, isn't this the same Manhattan playa from the other photo??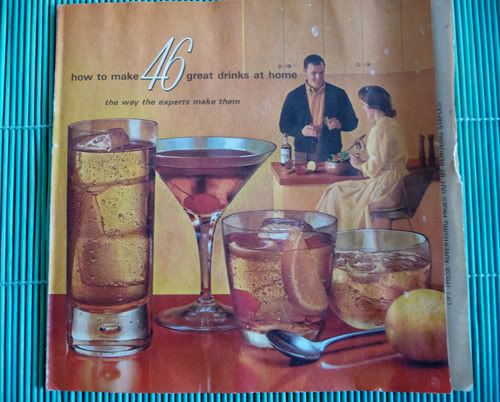 Ya know, they didn't mess around back in the 60s. You'll notice that each of these little booklets offers a minimum of 44-46 drink recipes.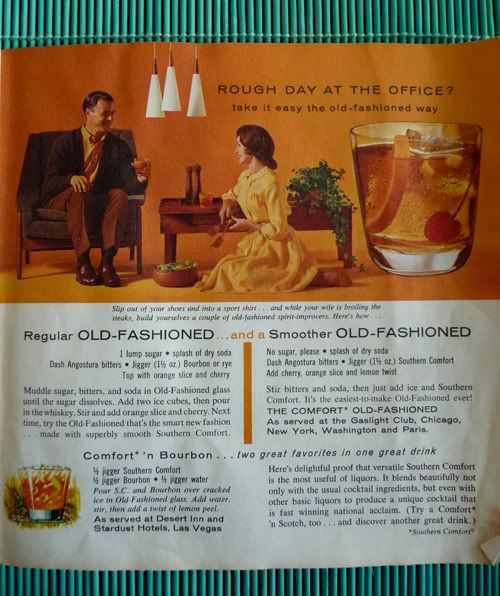 "Rough day at the office? Nothing like having your lady serve you a salad from a bowl on the floor with a four foot tall high-ball glass by her side...."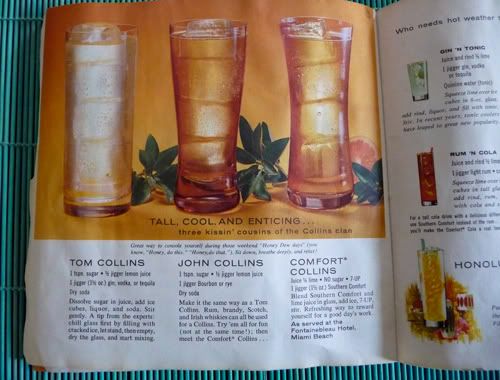 Is there a drink named the Joan Collins? There must be, right?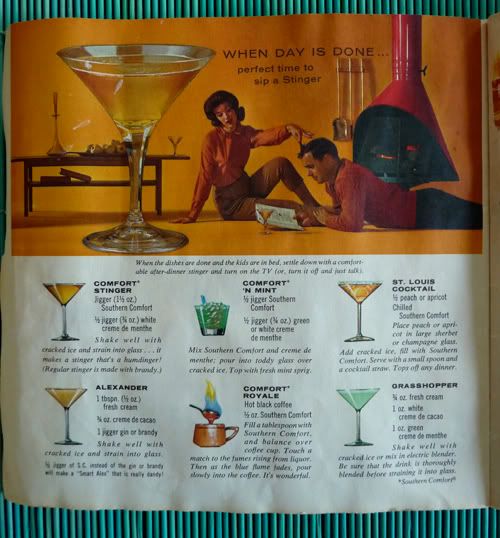 Believe it or not, we actually have that orange fireplace. But when the day is done, I have NOT been sipping a Stinger. I think I need to fix that pronto.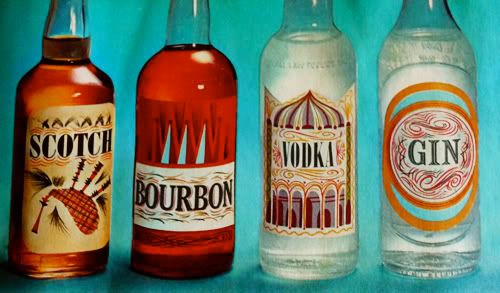 I love the labels on these bottles....AH-mazing!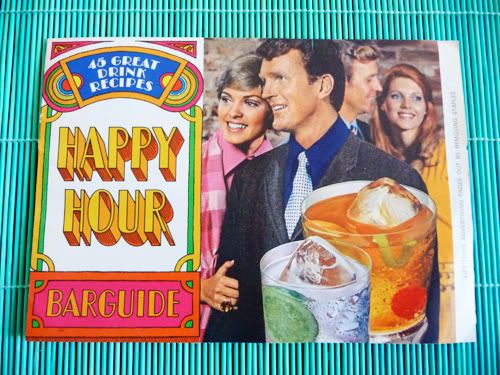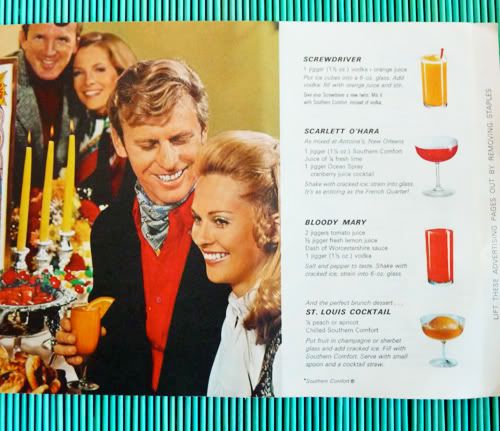 Heehee....the cravat....the couple in the background....I don't think I even need to say anything, do I??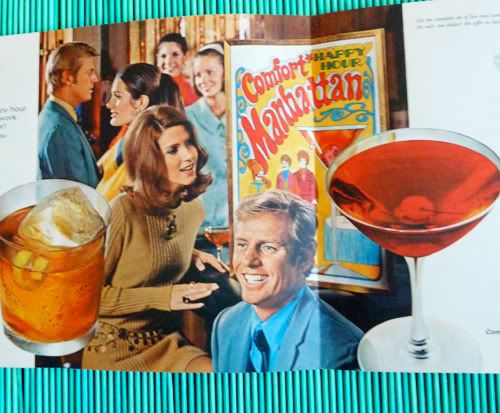 I think she finds that cocktail more engaging than Mr. Blue Shirt, Blue Tie, Blue Sport coat. But frankly I don't blame her. I suddenly have a craving for something cold and boozy....hmmmm. Here's to a great week, friends!
Xoxo
Alix